SCSS hosts a 34 acre farm on the northern outskirts of Bundaberg where Clients can visit and learn about a variety of rural and regional experiences.
SCSS are able to share in this unique experience where the SCSS Farm hosts a variety of animals including horses, sheep, alpacas, goats, pigs and calves.
The Farm experiences teach about general farm skills and tasks associated with small scale animal husbandry which often includes feeding small and baby animals.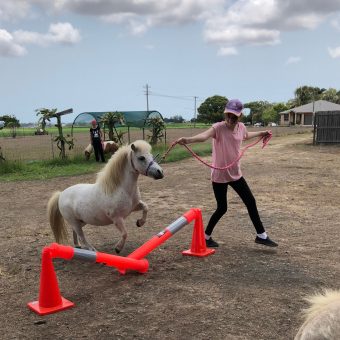 Equine Program
Our Farm also hosts one of our favourite programs where Clients get to learn about Horses and the therapuetic effect they can have on people.
What are the aims and goals of this program?
​Equine Program aims to increase the confidence, knowledge, fitness and thereby empowering participants.

These goals are achieved via our variety of modules included in the program, some of these modules are outlined below.
Throughout this program participants will learn how to groom, lead and feed and care for their horses!
Participants will receive Certificates for each Modules completed and then a Horsemanship Certification after completion of the program!

Lessons
What will I learn from the Equine Program
Orientation & Safety around horses
Safely catch, lead, secure and release a horse
Hoof Care
Grooming
Roadside Safety
Show Preparation
Horse First Aid
Basic Confirmation of a horse
Lunging for horse training and Fitness