Purpose, Belonging & Security
Vision: Making a difference in people's lives through purpose, belonging and security.
Values: Honour, Empower, Achieve, Respect

We show our values through:
Client Involvement and Empowerment - Our clients have control of their programs and outcomes. We support each individual to have power over their life and its direction.
Empathetic not sympathetic - We take the time to understand a person's disability, but we focus on their abilities and the contribution they make to their community.
Mutual respect - Everyone has important things happening in their life. Both staff and clients have a proper regard for each other's tastes, opinions, lifestyle and position.
Honesty - We will act honestly and ethically and provide all advice and services with integrity.
Professional relationships - The client is to feel supported on a professional level by the Service - not on a personal level by the staff member. We maintain professional boundaries when we provide support.
Client Safety and Wellbeing - We are committed to the safety and wellbeing of our clients including all children and young people. We strive to provide a child-safe environment where children and young people are safe and feel safe, and their voices are heard about decisions that affect their lives.
Tailored services - Our services are person-centred and customised to the needs and wants of the Service User.
Friendly environment - We look for ways to help and encourage each other. We work with confidence because we know we have the support of those around us.
Genuine commitment - We have a genuine commitment to the rights of people with disabilities to experience and enjoy the same learning and lifestyle opportunities that all community members have.
Considered planning - We invest time in planning our services and programs to ensure their ongoing viability and success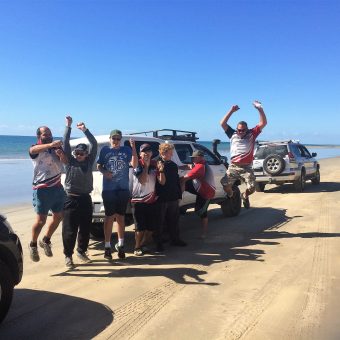 From humble beginnings
Southern Cross Support Services (SCSS) began 1 July 2011 by people who were adamant about providing something different for people needing disability support services.
From humble beginnings in the lounge room of Greg & Karen Gaston's home to now servicing all of Queensland and partnering with other business' to service the nation; SCSS's vision of providing Purpose Belonging and Security is something that the team live and breathe on a daily basis. Our vision is "Making a difference in people's lives through purpose, belonging and security".
SCSS has grown with this foundation of purpose to what is now one of the largest support services within our local communities of Bundaberg, Fraser Coast & Rockhampton. SCSS has offices based on the Gold Coast, Brisbane, Gympie, Hervey Bay, Bundaberg (head office), Gladstone, Rockhampton, Emerald, Mackay and Cairns and employs over 1,000 employees to date. Our point of difference is the quality of our service and the unique services we offer e.g. 4x4, fishing and beach trips, camping, cruises, equine programs, rock concerts etc because we believe you should live your best life.