Southern Cross Support Services (SCSS) was born in July 2011, and ever since then, SCSS has grown to provide supports to NDIS, and Child Protection.
Our incredible growth has only been possible through the embodiment of our values – Honour, Empower, Achieve and Respect.
Everything we do is always about our staff and our clients, and we strive to do our best to provide the best for them. It is this ingrained culture that delivers a high performing team that works hard but is also there to support each other and have fun doing so!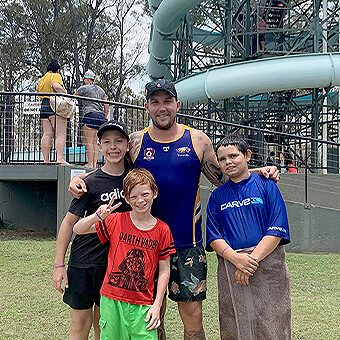 The SCSS culture
Our great culture stems from a sense of being valued by the organisation – we believe in best practice and continual improvement. We have a Learning and Development team that delivers new and innovative training, to ensure we are an industry leader.
People are also encouraged to engage the Recruitment team for advice when moving to other sectors of the organisation, and our Recruitment experts are happy and willing to provide advice on any potential training that would benefit someone to move into another area of the business, fostering a culture of inclusion, value and respect.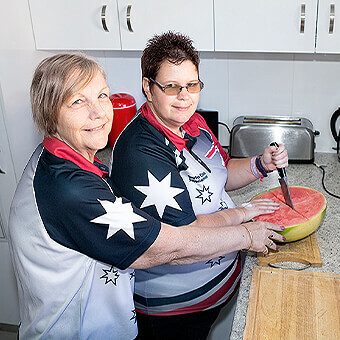 The SCSS Values
Our values underpin what we do, and this is reflected in our policies. Our industry-leading HR Team has developed policies in consultation with our high performing Service Delivery Team aimed at fostering our culture and maintaining our high level of service standards. This ensures our staff can focus on what they do best – support or clients to achieve their goals!
The most common role at SCSS is a frontline NDIS Support Worker (SW) and Child Protection Residential Care Worker (RCW) – these are also our most vital roles within the organisation!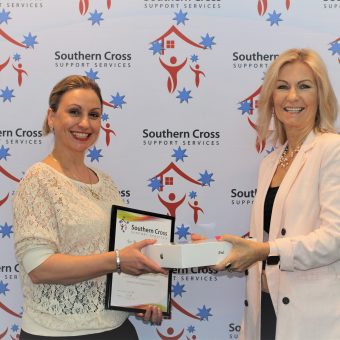 5 Year Service & Recognition Awards
SCSS celebrates and acknowledges the hard work put in by all staff within the business. Twice a year, our CEO will announce the staff that have achieved their 5-Year Service Awards, where staff are presented with an iPad and a framed certificate to commemorate their achievement.
These announcements are made in June and December and are a fantastic celebration of loyalty and commitment to our company and our Clients.
"Duty makes us do things well, but love makes us do them beautifully" ~ Zig Ziglar