We can work with you to source suitable, affordable accommodation or provide this support in your own home.
We offer 24/7 support with opportunities for capacity building to improve daily living and other skills while encouraging independence and ensuring your individual support needs are met. We will support you with daily living tasks including preparing meals, cleaning, personal care, medication, appointments and any other daily tasks you may need. You will be supported to be actively involved in the running of your home and making decisions with your housemates.
If you've identified housing as a goal with your NDIS planner, the NDIS will fund supports for you to consider and explore your options. This will involve support coordination and allied health professional assessments to identify your individual support needs. Once these assessments are provided to your NDIS planner, they will consider your eligibility for SIL. Once you've provided us with written confirmation from your planner of your SIL eligibility and support level we will work closely with you to explore your options for a SIL arrangement with us. The NDIS will fund your support within the home, and you will need to pay rent and utilities, as well as your everyday living expenses.

View SIL Vacancies
Do you want your own space? Have you ever thought about moving into a Supported Independent Living accommodation or a home that you and your friends can share on your own? A holistic approach to achieving your independence through supports in your plan to live in your own space.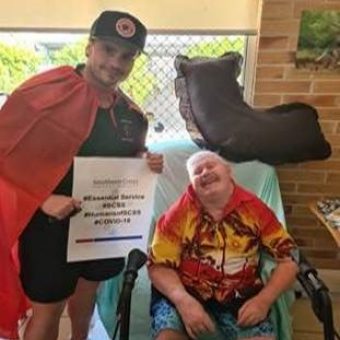 Servicing all of Queensland
We service the whole of Queensland, and currently have SIL participants in Rockhampton, Gladstone, Bundaberg, Fraser Coast, Brisbane and the Gold Coast. We are actively looking to expand these areas as well as new areas, providing support to participants throughout Queensland who require SIL arrangements.
We have highly skilled, passionate and friendly staff who will work with you to support you in achieving your goals. Please give us a call on 1300 7277 01 (1300 SCSS 01) or email email hidden; JavaScript is required to explore your options with our SIL Specialist.
Frequently asked questions
Can I bring my service/therapy animal?
We have a pet rooming agreement and if we are head leasing a property for you, we will also need to seek permission from the leasing agent. We can support you through these processes.
Can I choose my house?
We have several vacancies that you may like to explore, or we can work with you to source a house that suits your support needs and individual requirements.
Do I have the funds in my plan?
We can work with you to help you understand your plan and what supports you've been funded for.
Can I choose who I live with?
We understand how important it is to live with someone that you get along with. We will ask you lots of questions about your life and what you're looking for in a housemate so that we make sure we find a good match for you.
Why can't I stay in the house I am in?
You may be able to. We can work with you to explore your individual support needs and identify how your goals and funding can be best used to support your needs.