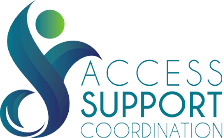 Access, Accelerate, Achieve
Our Vision
Providing the right Access to supports to Accelerate your independence and Achieve Goals.
Our Values
Access - Access to specialised and skilled Support Coordinators
Tailored - Working with you to build supports that are tailored to your needs and goals
Empower - Empowering you to have choice and control
Achieve - Achieving your goals together

What is Access Support Coordination
Our Access Support Coordination helps NDIS recipients get the most from their NDIS Plan.
Our experienced Support Coordinators work with Plan clients to:

Ensure they know what their Plan funds can be used for.
Build their capacity to make choices and control their spending.
Navigate the NDIS marketplace and find providers that are the best option for them.

What is Specialist Support Coordination
Specialist Support Coordination is funded if you have additional high or complex needs. This type of support will be provided by a qualified Allied Health professional such as a Psychologist, Occupational Therapist or Social Worker, depending on your situation. Specialist Support Coordinators can also help you overcome barriers to accessing health, education or justice services. The NDIS website has more information or ask one of our friendly staff.


Benefits of having a Support Coordinator
Support Coordinators assist you to understand and implement the funded supports in your Plan and link you to a range of community-based, independent and government services. We help you to negotiate with providers about what they will offer you and how much it will cost out of your Plan. We ensure service agreements and service bookings are completed and that you have choice and control over your supports. We also prepare your Plan Report for your Plan Review.

There are no out-of-pocket expenses for Support Coordination. If you are eligible, the government pays for this support. We encourage you to discuss eligibility with our staff as we may be able to assist. You can also find information at www.ndis.gov.au.

Are there different types of Support Coordination?
We offer two levels of Support Coordination. Coordination of Supports and Specialist Support Coordination. Depending on your individual goals, Plan objectives and aspirations, you may receive funding for these supports in your Plan.
Who gets Support Coordination Funding?
Not every client is funded for Support Coordination, but everyone can ask for it. If you would like Support Coordination in your Plan, be sure to mention it in your planning meeting.
How long does it take to get started?
Your National Disability Insurance Agency (NDIA) Planner will offer you a choice of Support Coordination Providers at your planning meeting. Once you have nominated Access Support Coordination your Planner will contact us and provide a copy of your Plan. We will contact you by phone to initiate an appointment as soon as we have been notified.