Bluesummer Properties have an extensive network of properties covering Queensland's major cities that is expanding.
Bluesummer Properties currently has several Specialist Disability Accommodation (SDA) projects under construction and can custom build SDA for participants across Queensland.
Southern Cross Support Services (SCSS) has partnered with Bluesummer Properties and is focussing on how important the right property is for their participants, and we can modify our existing properties to suit participants and maximise the efficiency of their support and independence.
We have a highly motivated team that keeps our properties in top condition, making sure they are safe, fully functional and comfortable.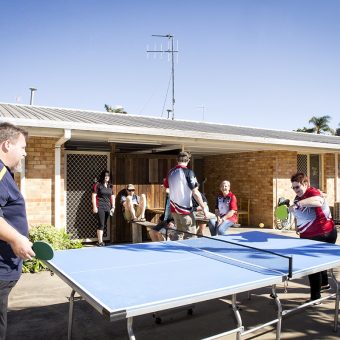 Providing housing for disability & child safety sectors
Bluesummer Properties strives to provide housing options for the disability and child protection community sectors. We offer a broad range of options that cater to individuals needs of our clients.
Our close business relationship with SCSS allows for detailed communication and action to achieve successful housing options for our client's lifestyle requirements. All Bluesummer properties housing arrangements are coordinated on a personal basis to meet the client's needs.
How we can help you!
Bluesummer Properties has combined the knowledge of both companies to support building and Service Delivery industries to achieve a strong accommodation solution to you. Bluesummer Properties now provide practical and functional housing outcomes that match the needs of our clients.
Bluesummer Properties services a broad range of housing to suit the needs of NDIS participants, Child Protection Clients, as well as clients with individual support needs.
Frequently asked questions
Do you build SDA housing to suit the needs of my person?
Yes, Bluesummer Properties can work with you to design a home that suits your every and complex needs. We have properties available now so call today!
Do you facilitate SIL?
Yes, with Southern Cross Support Services, we can offer a variety of homes and SIL solutions. Call our SIL Officer today on 1300 7277 01.
Can Bluesummer properties be modified to suit individual needs?
Yes, we will work with you and identify every way that we can ease your burden and make the process easy and straight forward.
What locations do Bluesummer Properties service?
Bluesummer Properties is happy to service all Queensland regions and currently has projects in a variety of major locations across the state.