The National Disability Insurance Scheme (NDIS) is an initiative set out by our government to provide all people with disabilities with information, funding and pathways to improve their quality of life and support them towards a more independent future.
What is NDIS - National Disability Insurance Scheme?
National: The NDIS is being introduced progressively across all states and territories.
Disability: The NDIS provides support to eligible people with intellectual, physical, sensory, cognitive and psychosocial disability. Early intervention supports can also be provided for eligible people with disability or children with developmental delay.
Insurance: The NDIS gives all Australians peace of mind if they, their child or loved one is born with or acquires a permanent and significant disability, they will get the support they need.
Scheme: The NDIS is not a welfare system. The NDIS is designed to help people get the support they need so their skills and independence improve over time.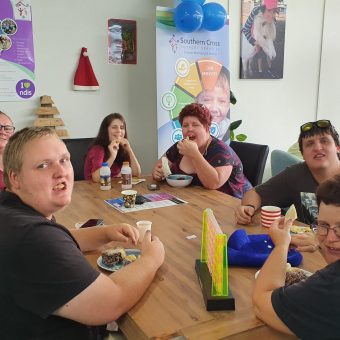 How do I access the NDIS?
Check the NDIS website to see if you are eligible - here
If you are deemed eligible, the NDIS website can assist you with some great brochures.
Booklets can be found - here

Booklet 1 – Understanding the NDIS
Booklet 2 – NDIS Planning Booklet
Booklet 3 – Using your plan
Navigating your NDIS plan can be a daunting experience. Here at Southern Cross Support Services (SCSS), we are more than happy to assist you with understanding what your NDIS Plan means. Please give us a call if you would like to make a time to sit down with someone and discuss your needs.