SCSS has a 5 Star Club where Clients who have been with the company for five years continual service are awarded with a choice of prizes from the "5 Star Club" sign and a framed certificate which is announced during the annual Christmas Celebrations.
Client prizes include iPads, trips away, holidays, gift vouchers, adventures, memberships, and other sought-after experiences.
SCSS also has a bi-monthly nomination process where support workers are encouraged to nominate Clients who have achieved goals; or who have worked hard towards their goals - for acknowledgement and celebration who are selected and rewarded with gift cards.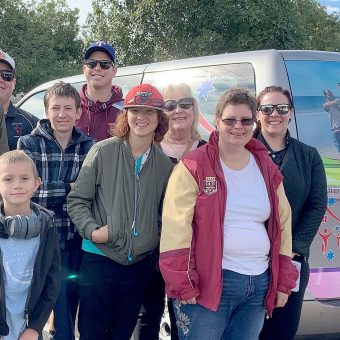 Our focus on clients
We give our clients the choice and control of their own lives.
We offer our clients activities and experiences that are enjoyable, such as four-wheel driving, fishing, camping, trips to theme parks, football games and concerts.
We encourage clients to reach their goals.
We encourage clients to reach and achieve their goals.
Encourage the best customer service possible.
We treat our clients like part of our family.
We engage our clients in fun and lively activities.
We specialise in areas of complex needs.
We are transparent and honest about our services.
We aim to be the best that we can be and do a great deal of work internally through our training and incentives program to achieve our desired results.
Additionally, the following HEAR values model (picture) is embedded in our training and ethos.
This model reflects:
Our commitment to ensuring client involvement and empowerment in our services to them;
Being empathetic not sympathetic: We take the time to understand a person's disability and focus on their abilities and the contribution they make to their community;
Mutual respect: Everyone has important things happening in their life. Staff and clients are encouraged to have a proper regard for each other's tastes, opinions, lifestyle and position;
Honesty: Our staff are expected to act honestly and ethically and provide all advice and services with integrity;
Professional relationships: The client is to feel supported on a professional level by the Service - not on a personal level by the staff member. We maintain professional boundaries when we provide support;
​Client Safety and Wellbeing: We are committed to the safety and wellbeing of our clients including all children and young people. We strive to provide a child safe environment where children and young people are safe and feel safe, and their voices are heard about decisions that affect their lives;
Tailored services: Our services are person centred and customised to the needs and wants of the Service User;
Friendly environment: We look for ways to help and encourage each other. We work with confidence because we know we have the support of those around us;
Genuine commitment: We have a genuine commitment to the rights of people with disabilities to experience and enjoy the same learning and lifestyle opportunities that all community members have; and
Considered planning: We invest time in planning our services and programs to ensure their ongoing viability and success.