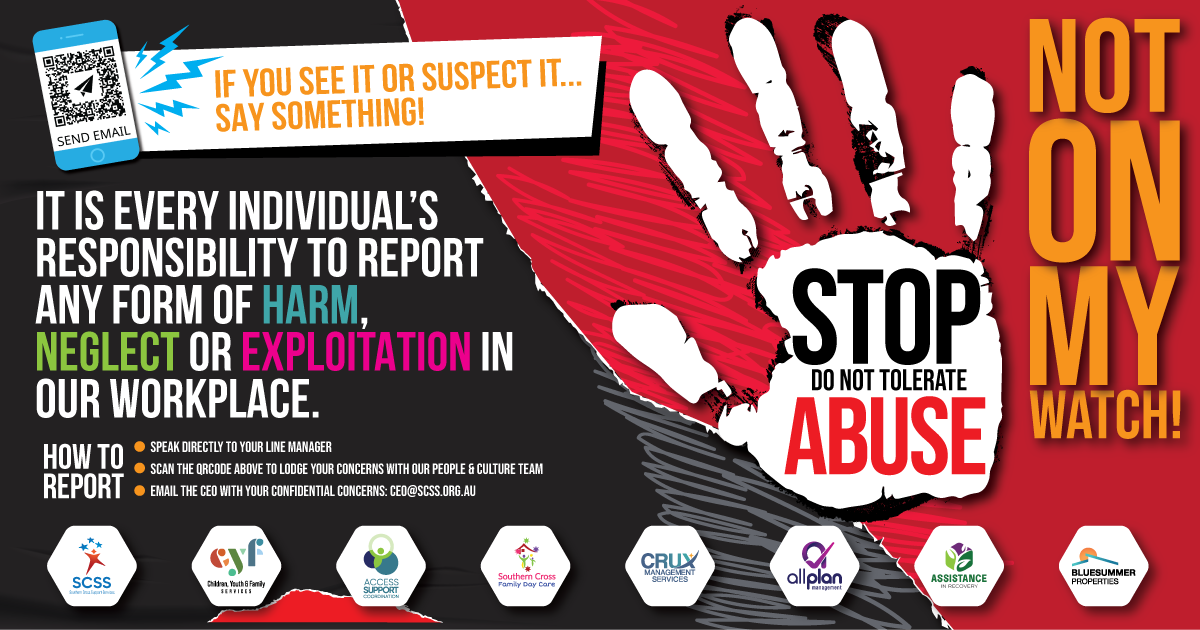 Not on My Watch Safety Campaign
Our Not On My Watch! campaign is designed to raise awareness and encourage our workforce to speak up about Harm, Abuse, Neglect and Exploitation in our workplace. Our objective is to improve education, allow employees to easily engage and support the mechanisms for you to report any form of abuse.
We are passionate about ensuring that all people are treated equally no matter what their age or ability is so throughout the course of this 3-month campaign we will put the spotlight on:
The types of abuse (physical, sexual, emotional, financial, exploitation and neglect).
The range of different settings that abuse can occur from group settings, residential accommodation, to day programs, to the individual's home.
What the indicators are – signs to look out for.
How to report any form of abuse.
Being part of the Southern Cross Support Services teams means being part of positive community change. Everyone has the ability to make sure your contributions help people overcome crisis, achieve their potential and live independent lives. We encourage all of our staff to be ambassadors and stand up against abuse, act to safeguard our clients (and employees), protect those considered to be among some of the most vulnerable people in our society and take a zero-tolerance approach towards any form of physical, emotional or financial abuse, sexual misconduct, neglect or exploitation.
Our organisation does NOT tolerate any form of abuse, neglect, or exploitation of any of our clients, young or old, and we expect any employee that is witness to any form of abuse, neglect, or exportation of a client to say something, report it and ensure it never happens on your watch!
Cheryl Barrett
Chief Executive Officer
Southern Cross Support Services
---