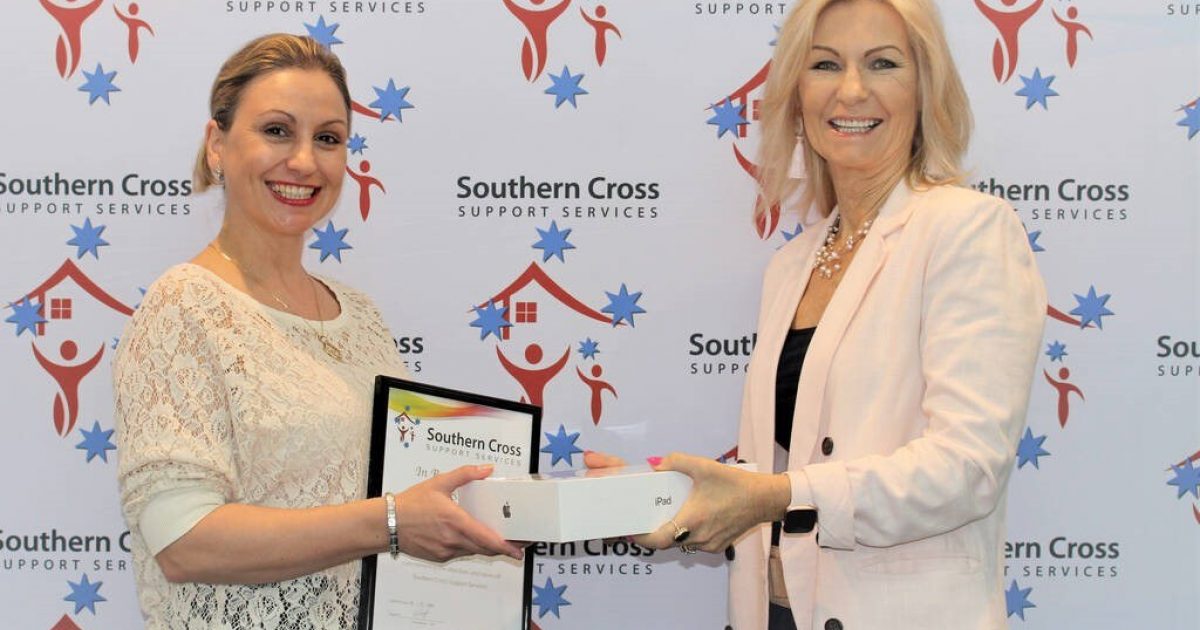 Congratulations Recipients - 5-Years Service Award
Congratulations to Miranda Farrar on celebrating five years with Southern Cross Support Services. CEO Cheryl Barrett presented Miranda with a gift at our staff meeting on 8 July. Cheryl has shared her thanks to Miranda in her column this month but we asked Miranda to reflect on her time with SCSS and here's what she said:
Q: What roles have you had since starting with SCSS?
A: Health and Safety Manager and Rehabilitation and Return to Work Coordinator.

Q: How does SCSS rate compared to other businesses?
A: SCSS is such a unique business built from small beginnings. I was lucky enough to be part of SCSS back in the early years. So many changes; however, the core values haven't changed and that is to provide an amazing service for our clients.

Q: What sets us apart as an employer?
A: Our growth and adaptability has been phenomenal such a sustainable industry to be part of with a wide range of opportunities.

Q: What is the greatest achievement you've had since being here?
A: The biggest satisfaction for me (rather than achievement) is returning injured workers back to work. I suppose from an achievement perspective in a broader sense is constantly adapting to changes in an every evolving environment to be able to support Service Delivery in Health and Safety Management for our workers.

Q: What is the funniest thing you've done or witnessed since being here?
A: My first day I was taken to a 'typical' residential. Client was sat naked in his arm chair – that was the moment when I thought, 'yeah this workplace is going to be interesting'. There's too many funny moments to mention. We have lots of different fun personalities working for SCSS and our clients' achievement bring a smile to my face daily. Or the day when one of our clients Ben T chaired a meeting and everything was approved and cheered after. This was fun.

Q: What would you say to others considering SCSS as an employer?
A: So many opportunities.

Q: How did it feel to be recognised for five years of service?
A: It was great to celebrate, and fantastic to reach the milestone with so many of the team to celebrate with me.

Q: Is there's anything you'd like to add?
A: A huge thank you to my colleagues for the support over the years, I have learnt so much from all different level of the business and so much more to learn.
---