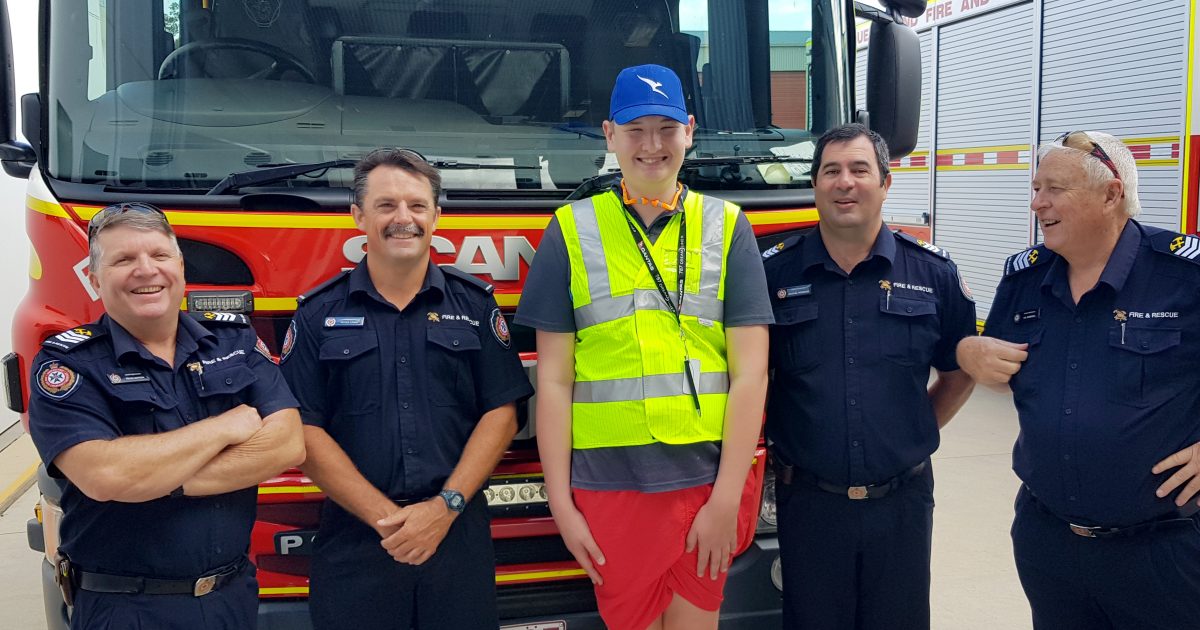 Chance encounter and support from SCSS helps William achieve goals
Twenty-year-old William has always been captivated by fire engines and his hero firefighters that drive them.

It's this enthusiasm that has helped grow William's confidence, self-esteem and community belonging.
William has been a client of Southern Cross Support Services for several years and receives 24/7 supported accommodation, community access and skills support.
He lives in his own unit surrounded by other SCSS clients.
About two years ago, William, who has an intellectual disability, was anxious, shy and quiet. He had become extremely reclusive and was worried to go out into the community in any capacity. At times, this saw William isolate and display behavioural challenges to cope and protect himself.
William's life changed after a chance encounter with a Bundaberg fire appliance and crew who were checking alarms in the street where he lived.
William's Support Worker encouraged him to say "hello". Instantly, William was anxious and hesitant but eventually he got the courage to take the first steps. With caution, he went to look over the vehicle and say "hello". When his 'hero' responded, William's face lit up and his confidence broke through.
This began a wonderful relationship that continues today with William enjoying regular visits to the local fire station. The Firefighters know him well and show him through their equipment and vehicles. They give William value, confidence and belonging.
William has gone from being an anxious, shy and isolated person to now showing real confidence and trust.
Williams says "when he grows up" he's going to be a fireman "just like Station Officer Michael". He often wears his firefighter uniform to his physiotherapy sessions, which he used to sometime avoid but now is happy to attend. He refers to it as his "Fireman Training" to which he fully commits.
His confidence also led to his fascination with aircraft and he has been a guest of Qantaslink regularly, with staff welcoming him at Bundaberg and Brisbane, where he received a special invitation to tour the operations and chat with staff.
A chance encounter and guidance from those who support William has given him the confidence to undertake greater social inclusion. He is making friends, being active, continually learning new life skills and sharing his smile and positive attitude whereever he goes.
SCSS is proud to be involved in William's journey and assist in helping him achieve his goals.
---